Joined

Feb 6, 2009
Messages

2,394
Location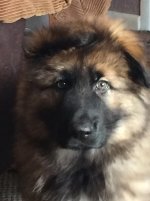 Complete off topic but meet Bongo
What a cool name for a dog.
He's the the fifth generation o German Shepard that's been in my life.
Never had a puppy before they have all been rescue dogs in the past, adults that needed a new home for what ever reason. (A bit like my bass collection).
The start of this year I lost Saxon to cancer so decided it was time to have one from new. I Ordered a new Bongo to mark the occasion and set about looking for the next in line. The name took care of its self
I hope this post is allowed and thanks for reading it.
Both Bongos are doing well, just need to keep them far apart for now.
Cheers
Dan