Joined

Mar 25, 2015
Messages

136
I recently rescued a 2010 JP6 from someone who clearly didn't know what they had. It was in very poor shape: It came with just two strings, a broken nut, and the worst soldering job I've ever seen. The backplate was missing, as was half the screws. All the electronics were shot, including the mags. The metal hardware was actually rusted, like someone had poured a beer on it and never bothered to clean it up. The black knobs were corroded and the metal had bubbled. The chrome toggle switches were yellow, as if the previous owner had 80 grit sandpaper for skin and stripped all the coating off back to brass.
I bought it unseen so when it turned up I thought I had done my dough for sure
The only thing is good condition was the neck (thankfully).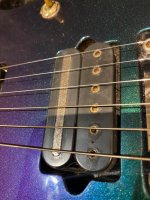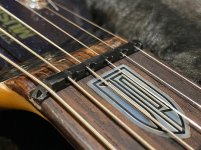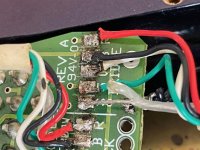 So I set about restoring it, and today I reveal my 'new' JP6. Here's what I did:
I replaced all the electronics: both pickups (Crunch Lab + Liquifire), plus the piezo saddles. New switches. I replaced the brass trem block with one from a Majesty which weighs half as much. The trem cover had deep grooves from a dog-collar bracelet which I filled and polished.
I sanded the pot knobs and painted/clear-coated them. New rubber grips. Now they are like new. I fixed the nut, and I even painted the screws on the backing plates. I sanded and re-oiled the neck. New strings, new trem springs. I even sanded and painted the tuning head screws which had corroded, and cleaned all remaining metal parts in vinegar and baking soda before polishing.
Aside from a few small cosmetic scratches, this JP is now like new and I ABSOLUTELY LOVE IT. I first saw JP play one in London during the SFAM tour in April 2000. For years I though about getting one but instead opted for a Majesty when they came out in 2014. Now I have the JP6, I can't believe how awesome it is!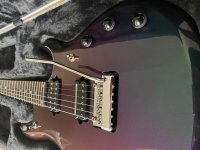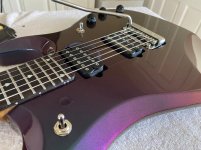 So yes, I ended up paying a few hundred more than originally intended for this guitar, but I have had the great pleasure of restoring it to its former glory. It plays amazingly well, sounds clear and crisp, it may even be my new favourite!