I was all set on getting a used Stingray Special but these two recently caught my eye, both available used for similar prices within driving distance of me. I'm only been playing bass (or any instrument) for two months or so, so any info on what you like/dislike about these two basses, however basic, would be appreciated (and my wife wants me to tell you NOT to tell me to buy both).
I like the unique aesthetic and tonal versatility of the Big Al (and the narrower neck). Here's a pic of the one I'd be purchasing: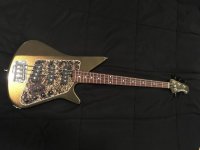 The only thing I don't love about the Big Al is that it's not a roasted maple neck, but those are really scarce (not a lot of Big Als get listed for sale, period).
Speaking of roasted maple necks, here's the Bongo 5 I found: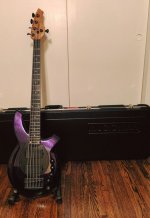 The seller didn't include a full pick of the back of the neck but here's what the headstock looks like: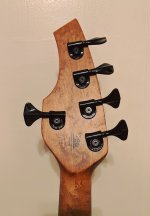 Very nice birdseye maple. I guess this was a Guitar Center exclusive? The only other non-painted bongos are I think Ball Family Reserves (please correct me if I'm wrong).
I don't currently know how to play a five string but it doesn't come in a 4 string and a few months ago I didn't know how to play a 4 string. Anyway, rambling over, will be joining the Ernie Ball family very soon, any advice appreciated.