Joined

Aug 8, 2009
Messages

144
Hey all,
I've posted about this before, but I finally found a pic.
My first guitar was a Silhouette that I purchased from Lincoln Brewster. He used it on Steve Perry's "for the love or strange medicine." I worked for months to save the cash.
It had an awesome bird's-eye maple neck, and was told that it was the only one made in this color.
From about age 15 until it was stolen just before my 21st birthday, I ate, slept, and lived this guitar. I was devastated.
The pic's not that great, but you can see the dirt I put on the fretboard.
I've replaced it with another Floyd silo, but I can't get another in this color as EB doesn't do em. Plus, it's not my original.
If you ever see this, please let me know. I would love to have it back, and will pay for it. I'm still searching, 15 years later.
I love my silos, and feel fortunate to have started out on them.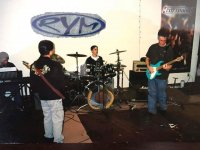 Last edited: