Joined

Jan 16, 2003
Messages

18,171
Location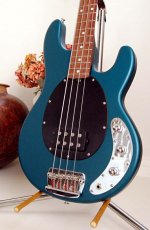 The Sport Utility Bass is back and better than ever. Loaned to ne'er-do-well California hipster and good friend Roger a few years back in hopes of him returning to The Bass, which did not actually come to fruition, Roger dropped the SUB off this week and officially surrendered. It was, as they say, a nice try.
The decades old Jazz Flats had fared well enough, but the D string had unwrapped and so I pawed around in my strings collection and found a full set of Cobalt Flats. And they were installed. Yow!
Roger had long since removed the battery, fearing inactivity would - as is often the case - lead to leakage. You boys know what I'm talking about. So, then - a new battery, fresh strings, a bit of a tweak and she is returned to the land of the living.
This is a really great example of a Stingray, although technically not a Stingray. (It's mighty close.) It's an American-built Music Man SUB, which was the Mothership's attempt to make an affordable "entry level" instrument in the US. The basses are great but Big Poppa said he might as well toss a hundred dollar bill in each SUB case. A short-lived venture but there are still a gaggle of gigging examples out there and the people that know them love them. I am one.
I'm always tempted to strip off the textured finish and let the kids do me a custom paint job, but the finish really isn't bothersome so I always talk myself out of it.
Great bass. Just a big old thumping great bass.