I believe that I'm done for now and may even move one or two, but feel pretty happy with these.
The only ones I'm looking to add are an Axis, and ASS in a nicely quilted Lavaburst with roasted necks like the Willcutt run.
I will buy the pair if and when they surface and come up for sale, I LOVE those.
Hope you enjoy the pic. Sorry I was too lazy to move the Baretta.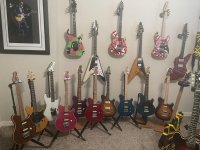 Last edited: