Picked up this beautiful Super Sport recently. I had an ASS many years ago and sold it to another forum member. Why? I wanted something with a bigger neck, but I missed it so last year I picked up an ASS with MM90s. I play it constantly, the smaller neck doesn't bother me any more and the P90 tone is the best I've experienced in a guitar that's less than 50 years old. So I decided to pick up an HxH version to see if I like it equally as much. Here it is: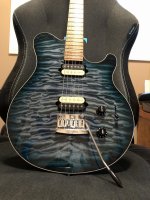 So far it plays about as well as the orange one, but the tones I need to get accustomed to. For years, I modded my guitars to get them to produce a very specific tone so that I didn't have to constantly change amp/pedal settings when switching guitars. A few months ago I sold all that gear and have gone full speed ahead with a Fractal FM3. The great thing with this setup is that I can save all those settings changes into separate presets depending on the natural tone of the guitars. Now I can
finally
appreciate a guitar for it's natural tones rather than making it fit into a mold. The ASS has some powerful pickups so I need to back off the gain in my presets and I think I'll be fine. So far, though, I think I hit a home run with this guitar.
I know, that top sucks... right? (for you oldies on the board)