Joined

Sep 14, 2023
Messages

1
Location
I picked up a real nice looking Ernie Ball Pedal, very impressed with the feel and operation. It has a few shoe marks and some dust but seems to have been taken care of. I had a choice of this or two JR pedals. This one just felt so much better and in my testing sounded the best of the three, there was clearly a sound difference which is hard to explain but I and the sales associate heard it and agreed.
I am not seeing anything to determine its age and didn't find anything in web searches. I was able to see some lettering on the back side of the PCB using a flashlight pointed at the front, there were a few numbers that I could not make out but clearly see the following.
MVP
B07201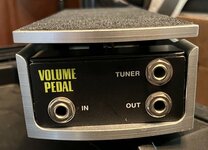 If anyone can help much appreciated!
Thanks
Gary