Joined

Jan 2, 2009
Messages

119
Location
I know that a lot of you are using Markbass amps with your EBMM gear, so hopefully you can give me some good advice.
I'm thinking about picking up a 2007 LM250 to use for rehearsals (I'll still use their cabs, but I'm tired of the horrible amps that I usually have the displeasure of playing through), and the size and weight of the amp is a factor. I'm currently using a Mesa Boogie Walkabout Scout combo live, and I've been brining the head to rehearsals. But the head, when removed from the combo still weighs about 13lbs—and I usually use the subway to get around in the city, so I'm lugging all my gear with me—and every pound counts...
The amp looks to be in fantastic condition, it comes with a gig bag, and he's asking $300 for it.
So my question is this:
What's the difference between the Little Mark 250, and the newer Little Mark II and III. Is there any reason that I should avoid this model? I'm guessing that they've added features and possibly worked out bugs with the newer models... but I have to admit, I know nothing about Markbass products at all.
Thanks,
Yango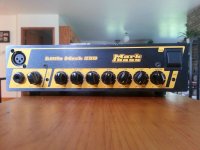 Last edited: