Joined

Jan 16, 2003
Messages

18,169
Location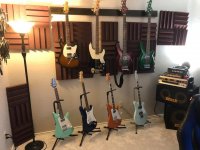 I cleaned it up a little because some fool is coming over to buy that lone Strat. Good riddance, I say.
Apologies for the Fender P bass, but come on, even BP has one. Frankly, I don't know why I keep it. It weighs about the same as a Buick Riviera so it's not like I'm ever going to play it live.
Bottom, L-R: the meanest guitar I own, the Mint Green AL HH w/rosewood neck. I didn't even mean to buy this. Look at me now. Then the soon-to-depart MIM Strat. The Orange Crush AL HH BFR which is simply an insane guitar. And the Valentine, which I will make you a great deal on.
Upstair, L-R: Stingray HH, also on the block since the ALs have arrived. Mike Dirnt P, who wants a P bass? Not me. The sacred Candy Red Bongo 5H, the alpha Bongo. When in doubt, grab that one. My desert island bass. Last and certainly not least, the Emerald Green Sparkle Bongo 5H. Great bass, backup to the red Bongo.
I cleaned things up so figured I better take a photo real quick before everything goes crazy again.
Jack