I have a '96 Silhouette Special that has seen plenty of touring in its life and has bumps and nicks to attest it. I recently saw (who knows how long they've been there) that there are what look to be cracks at the neck pocket. I haven't taken the neck off and I'm wondering if folks think it could just be the finish. Is this a normal thing to have happen over time? Should I be worried about it or keep playing? Can this even be fixed if it is true cracks?
So many questions.
Guess I'm wondering what I should do. I love this one.
Here's what it looks like on each side: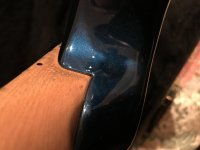 .