Hey folks
I recently got a 7 strings JP15 from Thomann. The guitar is playing fine, but today I noticed that the bridge is not really aligned with the body. English is not my native language so I find hard to describe the problem, so here's a picture.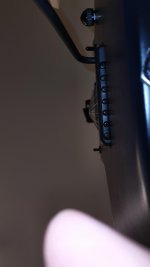 You can see that the screw of the first string is partially covered by the body, while the one from the seventh string is normal.
Does anyone know if this is normal? If not, is it easily fixable, like for example by adjusting the trem claw? Or should I look into returning it?
Thanks!