Long time since I posted on this forum (and since I've had a Music Man), but I recently bought a new hazel burst Sterling LK100. Was curious about the Lukather model, but didn't want to go all in on a Music Man Luke. But the LK100 is a very nice instrument once setup and customized some. Boost circuit and all.
Was a bit afraid of the soft V neck carve, but it's been a positive surprise and the neck now feels quite good (the roasted maple neck sure helps with that feeling as well).
I've done a few things to customize the guitar though:
The Sterling pickups were very weak and bright (both ca. 7.6 kOhm and 4.2 H) for a rock guitar. "Normal" humbucker levels could be achieved using the boost always on, but still. I swapped them with a DiMarzio Transition set which Lukather sported when he first got back to using passive pickups. They are far more punchy and darker, and suits the guitar better in my opinion.
The vintage saddles with their height adjustment screws sticking out are not quite to my liking. I swapped them for a modern style brass saddles set - that also made this bright guitar slightly darker.
Swapped the switch and tone pot to rewire the guitar to my 208/22 guitar wiring (modified to fit with the boost circuit). Eight useful sounds the way I like it:
Tone pot down: Pos 1: bridge humbucker, 2: inner coils in parallel, 3: bridge+outer neck single coil, 4: outer neck single coil, 5: neck humbcuker.
Tone pot up: Pos 1: bridge humbucker, 2: inner bridge single coil, 3: both humbuckers, 4: outer coils in parallel, 5: neck humbcuker.
The 208/22 guitar wiring leaves one pole of the switch unused which I've now have used to control the boost circuit to compensate (slightly boost) the lower output pos 2 and 4 sounds. Like it's done on the Music Man Luke. Almost weird having the coil split sounds the same volume as the humbucker sounds - but cool.
All in all, very happy with this guitar!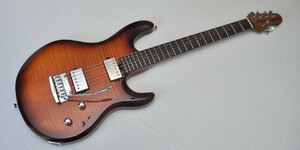 Last edited: