Hi all,
I have tried the scheme below, but it doesn't seem to work entirely. I hope the drawing is somewhat clear.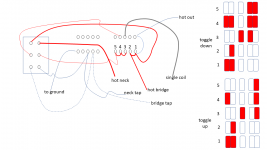 I basically want: bridge humbucker, bridge split inner coil, single coil+ inner neck split, dual humbucker, and neck humbucker when the switch is down.
In the fourth position, I want the 'tele middle' when the switch is up (outer coils), and a split neck humbucker in fifth (outer coil).
The problem is that I don't have any sound in the third position when the toggle is up, since it goes to ground then (although the middle single coil should work?!). I've tried different variations, but it appears that only 1 of those 'position 3' connections can be made using this setup. Am I correct?
What other additional possibilities could there be except for the single middle in third (e.g. split bridge inner+single middle in second position)?
BTW, the rationale for the layout of the third and fourth in switch down is to avoid a large difference in volume when switching from neck to dual humbucker mode (otherwise hopping over the split neck+middle).
I guess I can solve this in the future using capacitors cf. Guthrie Govan. Should rescheduling to other positions be necessary, I'm open for suggestions!
Thanks for any feedback!