Joined

Jan 16, 2003
Messages

18,160
Location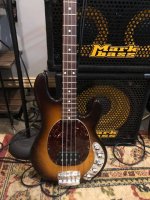 Well, this was embarrassing; I had to google the control layout for a Stingray 4 with piezos. It has been a long time, but still, you'd think I might remember that sort of thing.
But you'd be wrong to think that.
Hah, five knobs on a single pickup bass! This is not like me at all.
It sure sounds good, though, and thanks to Armybass for this one. It's a little beat up but it's honest wear and means it was someone's player. I don't mind this at all. It may also be the only tobacco burst I've ever owned. (Don't put money on that - my memory is not that precise now.)
It has weird zingy strings on it but we'll be fixing that soon enough.
Thanks, Scott!
Jack