Joined

Jan 16, 2003
Messages

18,164
Location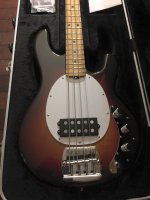 It doesn't sound like any other Stingray I've had over the last 35 years, but it sounds like a Stingray. It is PHAT, even with rounds. Yes, I will no doubt eventually (soon) put some flats on it and it might be, who knows, EVEN BETTER? It could happen. Man, this thing is just thick. It says, "I am here to give you low-end authority." I'm probably one of the few people on the forum to have played the original Old Smoothie, but I can't really compare - I didn't plug the original in, and the strings were from, I believe, the LBJ era. But Hay-Zeussss, this pickup and preamp combo is SWEET. I can see why Big Poppa gigged that one to bits.
Neck is perfect - not skinny, not fat. No center detents on the tone controls - you have ears, turn the knobs till it sounds good, then stop turning the knobs. Damn. The finish is not a standard sunburst. Chocolate burst is an accurate description. Very old school vintage vibe.
The battery cover is old school metal plate. I haven't yet tested the mutes but I'm stoked that I have 'em if I want them (and I will, I will, have you heard coWpilot?).
Okay, babies, I gotta play this some more.
Jack