Joined

May 22, 2002
Messages

135
Location
If you create a signature it appears below each post you make on the forum.
To create or edit your signature, first click on your member name at the right hand side of the main navigation bar on any page. You will see a menu of your account options: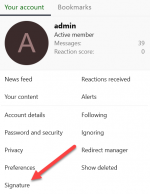 Select the signature option to get to this page: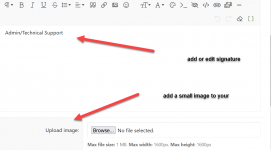 If you wish and your account has the necessary permissions, you can also add a small image to your signature. Right now, I have set the limits to something arbitrary: the values shown above are unrealistically large and would very quickly uglify and overwhelm any thread you post in.