Hi Guys!
I know there is no JP Model with a Fixed Bridge, and I guess since JP uses the Trem, we won't see one without it.
One of my JP 6's is set up for C Standard and i never use the Trem on that one.
So i just "modded" my Emerald Green JP with two "Flamed Maple Trem Stopping Blocks" (it has to be flamed maple
)
And besides the improved tuning stability on palm mutes, it also sounds tighter on the lower notes!
The Idea or Question i had was, that since the Guitars are made on CNCs and the Gap in the Trem Cavity should be pretty uniform when the Trem is set to be parallel with the Top of the Body, it wouldn't be too much work for EBMM to make perfectly machined Stop Blocks and sell them as accessories.
They could easily use the scrap material they get from cutting out the Necks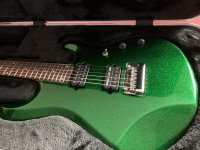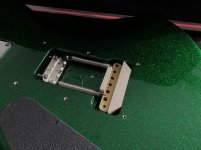 What do you guys think?